Under-the-jib equipment manufacturer Modulift's latest spreader beam – the 2,000-tonne capacity MOD 1100/2000 – has been used for its first lift in Dover, UK.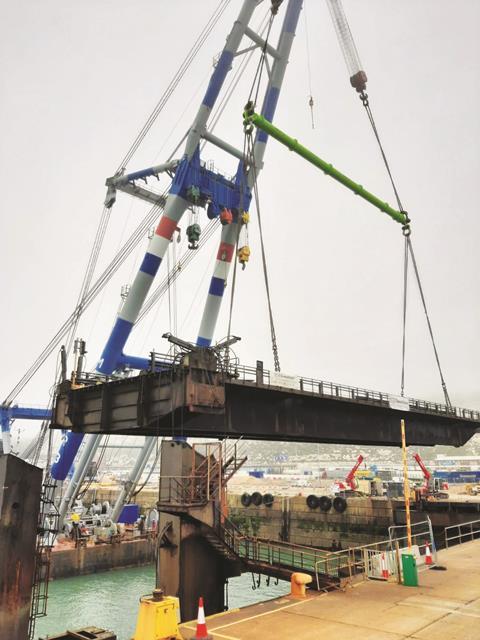 The spreader beam was manufactured for customer Safe Lifting Europe earlier this year. The company has now put it to work lifting parts of a bridge on behalf of Bonn & Mees Floating Cranes.
The modular beam was first transported from Safe Lifting Europe's yard to Bonn & Mees in Rotterdam using two trucks. Two sheerlegs then lifted and stored the MOD 1100/2000 before it was shipped to Dover for the lifting operations.
As part of the lifting configuration, an additional two Modulift MOD 400 spreader beams were used. The assembly of the MOD 1100/2000 took the team at Safe Lifting Europe one full working day using an electric torque wrench.
Giovani Vroegop, technical commercial manager for Safe Lifting Europe, said: "It was incredible to see the new MOD 1100/2000 spreader beam up in the air for the first time… The sheer size of the beam can only be really appreciated when you're up close, it really is huge."
John Baker, commercial director for Modulift added: "Part of the project to supply this 'beast' of a beam, required Modulift's compressive test bed to be extended to 33 m and increased in capacity to 2,300 tonnes which was quite a project in itself. The MOD 1100/2000 spreader beam really is impressive to see and our in-house engineering team are already looking at further opportunities with Safe Lifting in the super-heavy lifting market."